Mining project opponents are more credible and trustworthy than Powertech, according to CSU survey of northern Colorado residents
84% believe risks associated with uranium mining in area outweigh benefits; 4 out of 5 say mining issue will affect voting choices
Posted May 25, 2008, Updated May 26, 2008
In a recent development that does not bode well for the future of the Centennial Project, a survey conducted by Colorado State University journalism students reveals that northern Colorado residents are almost universally aware of Powertech's uranium mining proposal, are overwhelmingly opposed, and believe the organized opposition, Coloradoans Against Resource Destruction (CARD), is more credible and trustworthy than Powertech Uranium Corp.
The survey was overseen by CSU professor Craig Trumbo. Trumbo, a PhD who has authored or co-authored 26 peer-reviewed papers, is an expert on risk analysis, perception, and communication, particularly regarding environmental and public health issues.
The mail survey was sent to randomly-selected residents, mainly from Wellington, Carr, Nunn, Ault, and Pierce. These communities surround the proposed mining project. Fort Collins was apparently excluded, in spite of the fact that mining would occur less than 7 miles from its city limits. Responses were received from 205 people, giving the survey a margin of error of about 7%.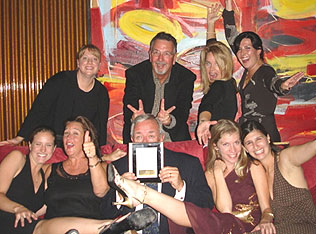 Employees of Webb PR, Powertech's public relations firm.
Highlights from the survey:
- 95% of respondents have heard of Powertech's proposal.
- 74% are opposed, 20% undecided, and 5% are supportive.
- The most important risks identified are threats to home values, potential costs of future clean-up and water contamination.
- 84% believe that the risks associated with the mine outweigh the benefits.
- 79% indicate that this issue will affect their voting choices in November.
In light of the survey results, perhaps Powertech should reconsider the money it is spending on public relations. A year ago Powertech hired Webb PR, a Denver public relations firm run by Peter Webb. Webb PR's motto is "Accessible. Ethical. Tenacious. Real." So far, the "tenacious" firm has held a grand total of one public meeting in northern Colorado (Nunn, July 19, 2007) while CARD has held ten informational meetings in Fort Collins, Wellington, Nunn, Greeley, Timnath, Loveland, Windsor, and Eaton. And that solitary Powertech event was an "open house", not a traditional public meeting with a presentation and a question/answer period.
Rather than communicating with local residents, Powertech has chosen to take politicians and university professors on tours of the Smith Ranch and Highland in-situ leach uranium operations in Wyoming. Many of these individuals have returned to Colorado to extoll the virtues of ISL uranium mining.
Unfortunately for Powertech, the Wyoming Department of Environmental Quality recently cited the mine operator, Cameco Corporation, for numerous violations of its permits. The state's investigators found that the facilities routinely experience an "inordinate number" of spills, leaks, holding pond failures, well casing failures, and mining solution excursions.
Risk communication efforts by Powertech and Webb PR have been simplistic and condescending. They have consistently avoided the issue of scientific uncertainty which is inherent in any uranium mining operation. Instead, they have presented a black and white version of the "science" to an audience that has demonstrated it is fully capable of researching the relevant scientific papers and government databases. Simply put, the scientific and technical literature does not support Powertech's assertions that ISL uranium mining is "benign", "safe", and has never caused environmental problems.
Efforts by Powertech and Webb PR to sway public opinion on this issue have been a dismal failure. Opposition to the Centennial Project has come from U.S. Representative Marilyn Musgrave, the Fort Collins City Council, the Greeley City Council, the Wellington Board of Trustees, the Timnath Town Council, the Colorado Medical Society, the Larimer County Medical Society, and over 9,000 petition signers.
The CSU survey results provide additional confirmation that Powertech has been unable to sell the Centennial Project to northern Colorado residents who would bear the risks associated with uranium mining. As time goes on it becomes more apparent that Powertech officials made a major blunder when they assumed they could conduct in-situ leach and open pit uranium mining in an area with over 300,000 residents.
JW
COLORADO STATE UNIVERSITY STUDENTS COMPLETE SURVEY STUDY OF URANIUM MINING CONCERNS - News release
Colorado State University - May 22, 2008
Curriculum Vitae - Craig Trumbo, Ph.D. - Associate Professor - Colorado State University
Map showing proximity of Centennial Project to Fort Collins, Windsor, Greeley, Loveland, Longmont, and other Larimer and Weld County towns (Source: www.nunnglow.com)