U.S. Congresswoman Musgrave urges Larimer County commissioners to oppose Powertech's mine plans
Musgrave seeks to protect ground water for area residents; letter follows similar message to Weld County commissioners last month
Posted February 28, 2008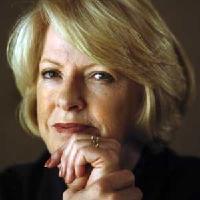 Marilyn Musgrave sends Larimer commissioners letter urging opposition of uranium mine
Andrew Villegas
February 28, 2008
Rep. Marilyn Musgrave, R-Fort Morgan, has sent a letter to the Board of Larimer County Commissioners urging them to oppose a proposed uranium mine near Nunn.
The letter follows a similar one Musgrave sent the Board of Weld County Commissioners in January asking them to oppose the mine over health and safety concerns.
"Like many of my constituents, I am particularly concerned about the impact this mining could have on our groundwater resources in northern Colorado," Musgrave said in a release. Musgrave also said the in-situ — or "in-place" — mining method that is being proposed has the "potential to contaminate the underground aquifers that our families, communities and agricultural producers rely upon for clean safe water."
Powertech Uranium Corp., a Canadian firm that owns the mineral rights to 5,760 acres between Nunn and Wellington, has said the mining process will be completely safe and will not pollute ground water.
The Fort Collins City Council and the town of Timnath have already passed resolutions opposing the proposed mine. Those two governments and the Larimer Commissioners have no authority over the project, but because they are in the vicinity of the area, their opinions on the matter will be considered as the permitting process runs its course. Greeley City Council has also discussed a possible resolution against the mine.
The Weld commissioners — in conjunction with state and federal agencies — will have ultimate say on if the mine goes in, and Powertech is in the midst of collecting data at the site to present to permitting agencies.
Powertech officials say they will not apply for a special use permit from Weld County until December 2008 at the earliest.
Marilyn Musgrave sends Larimer commissioners letter urging opposition of uranium mine - Andrew Villegas
Greeley Tribune - February 28, 2008
News release from Rep. Musgrave's office
MUSGRAVE REITERATES HER STRONG OPPOSITION TO CENTENNIAL PROJECT - Letter encourages Weld County commissioners to listen to residents and carefully evaluate potential economic and environmental costs - Posted January 31, 2008
MUSGRAVE ANNOUNCES OPPOSITION - Congresswoman states intention to help stop proposed project to crowd of 300+ angry landowners and stunned Powertech managers at end of Nunn community meeting; cites population density, groundwater contamination risk, effect on agriculture, and declining property values - October 15, 2007, Updated December 1, 2007
Larimer Commissioners to consider resolution against proposed uranium mine - Andrew Villegas
Greeley Tribune - February 26, 2008
Mining fears; Crowd packs room, asking Larimer County Commissioners to oppose uranium extraction plans in nearby Weld County - Pamela Dickman
Loveland Daily Reporter-Herald - February 26, 2008

Commissioner Eubanks opposes uranium mine - Kevin Duggan
Fort Collins Coloradoan - February 26, 2008