"Model" Wyoming in situ uranium mining operation cited for multiple permit violations
Cameco Corporation, a Canadian company, is world's largest uranium producer; Wyoming regulators note "inordinate number of spills, leaks and other releases", "low level of corporate commitment" to environmental issues, and "groundwater restoration not a high priority"
Posted March 27, 2008, Updated March 29, 2008
Earlier this month, the Wyoming Department of Environmental Quality issued a Notice of Violation to Power Resources Inc. for numerous violations of state permits for in situ leach uranium mining. Power Resources is a wholly-owned subsidiary of Cameco Corporation, a Canadian mining company that is the largest uranium producer in the world, according to the company's website. The two permits in question are for the Highland and Smith Ranch ISL mining operations located in Converse County in east central Wyoming.
The Wyoming investigators' report notes that Highland-Smith Ranch has been the major and only significant uranium producer in the state for many years, and that "there is an expectation that the operation might serve as a model for excellence in ISL mining."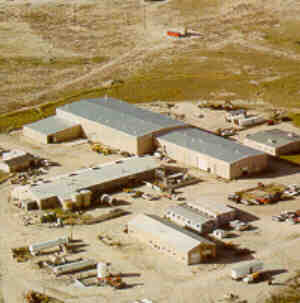 Unfortunately, excellence was not what Wyoming officials found during their investigation last year. Their report is a disturbing recitation of numerous ongoing problems the company has experienced since it started mining uranium at the site in 1988. Problems include spills, pond leaks, well casing failures, and excursions of leaching fluid. Well fields that were supposed to be mined, restored, reclaimed, and decommissioned in 6-10 years have instead taken 20 years. Reclamation bonds posted by Cameco have been underestimated and are woefully inadequate to protect taxpayers. Permits contain inaccurate and outdated information regarding procedures affecting public safety and the environment.
The report is a stunning rebuke of Cameco and its Wyoming ISL operations. Ironically, Powertech Uranium Corp. has recently been involved in arranging tours of Highland-Smith Ranch for selected Colorado politicians and university professors. Presumably, the tours are meant to persuade these influential individuals to support Powertech's Centennial Project. In fact, some of them have returned to Colorado to publicly announce that ISL mining is safe and benign.
The reality is somewhat different. Below are excerpts from the Report of Investigation (the full report follows):
This investigation was conducted at the request of Rick Chancellor, LQD Administrator, in response to concerns over recent spills and the slow pace of groundwater restoration at the Smith Ranch-Highland ISL operation.

Given that PRI's operation has for many years been the major uranium producer in Wyoming, there is an expectation that the operation might serve as a model for excellence in ISL mining. Unfortunately, this is not the case. There are a number of major long-standing environmental concerns at this operation that demand immediate attention.

The approved mining and reclamation schedules are not being followed and are not, current. PRI is not conducting contemporaneous restoration as required by their permit and WDEQ-LQD regulations.

Spill detection, reporting, delineation, remediation, follow-up and tracking protocols are not defined in the permit and should be. PRI experiences spills on a routine basis.

PRI's typical wellfield installation procedures result in the near total disturbance of the native vegetation and soils. This is not consistent with the regulation that allows for "minor disturbance" without topsoil stripping.

It is readily apparent that groundwater restoration is not a high priority for PRI. Reclamation is not contemporaneous with mining. A total of 12 wellfields are now in production and restoration is proceeding (slowly) in only 2 wellfields. Only 2 wellfields (A and B) have been restored in 20 years of operation. The permits project that production will typically last for 3-5 years per wellfield and restoration will take 3-5 years per wellfield. It appears in reality that both production and restoration timeframes have doubled or tripled and yet additional wellfields are being brought into production.

Over the years there have been an inordinate number of spills, leaks and other releases at this operation. Some 80 spills have been reported, in addition to numerous pond leaks, well casing failures and excursions. Unfortunately, it appears that such occurrences have become routine. The LQD currently has two large three-ring binders full of spill reports from the Smith Ranch-Highland operations.

Cumulative tracking of spills and releases is important to insure appropriate follow-up on every incident. Some of the spills may have little impact individually, but cumulatively they might have a significant effect on soils and/or groundwater. A cumulative record will also assist in pinpointing potential problem areas and developing appropriate preventative measures. PRI should develop and implement an inspection and maintenance program designed to prevent future spills.

The reclamation cost estimates contained in PRI's annual reports assume completion of all groundwater and surface reclamation in 4 years with a staff of 26 people (1/4 of current staff), using the existing facilities with the addition of only 2 new 400gpm RO units. This scenario is totally infeasible and unsupported by any critical path timeline or water balance. Rough calculations based primarily on PRI's figures reveal an alarming scenario.

PRI's bond calculation includes minimal funds for new infrastructure, maintenance, replacement and repair. Only two new 400 gpm RO units are included in the bond estimate. The need for new wells, including DDW's, water storage and treatment ponds, additional RO units, membranes, pumps, piping and general wellfield renovation should be anticipated and included in the bond calculation.

PRI's bond calculation assumes a staff of only 26 people, with 22 of them on a salary of only $34,000 per year! If their current operations require a staff of 100 people then it will take at least 1/2 to 2/3 of that staff to conduct restoration. The restoration operations will look very similar to production operations. Operation of RO units, in particular, is very high maintenance and labor intensive. Retaining competent staff will require that wages and benefits be at least $50,000 per year.

Considering that reclamation will take several times longer, require at least twice the staff with higher wages and require much greater investments in infrastructure than PRI has estimated, a realistic reclamation cost estimate for this site would likely be on the order of $150 million, as compared to PRI's current calculation of $38,772,800. PRI is presently bonded for a total of only $38,416,500. No bond adjustments have been made since 2002. Clearly the public is not protected. It is recommended that PRI's bond be immediately raised to a level of $80 million until a thorough evaluation, including critical path analysis, can be completed and an appropriate bonding level established. No permit amendments should be approved or new wellfields authorized until the bonding situation is corrected.

Achieving environmental compliance at an operation of the size and complexity of PRI's Smith Ranch-Highland Mine requires a high level of commitment from both the company and the regulatory agency. PRI's environmental efforts have suffered from inadequate staffing, high turnover, lack of institutional memory and a low level of corporate commitment. There has been a lack of continuity and follow-through on many issues. At this point in time, overall environmental compliance at this operation is poor.
Report of Investigation
Operator: Power Resources, Inc., Facility: Smith Ranch - Highland Uranium Project, Mine Permit #603 (Highland) and #633 (Smith Ranch), Prepared By Mark Moxley, LQD District 2 Supervisor
Wyoming Department of Environmental Quality - November 21, 2007
IN THE MATTER OF THE NOTICE OF VIOLATION ISSUED TO POWER RESOURCES, INC., P.O. BOX 1219, GLENROCK, WY 82637
Re: Insitu Uranium Operation, Permit #603, Re: Insitu Uranium Operation, Permit #633, DOCKET NO. 4231-08
Wyoming Department of Environmental Quality - March 7, 2008
Letter from John Corra, DEQ Director and Donald McKenzie, Administrator-Land Quality Division to John McCarthy, Manager-Health, Safety and Environmental Affairs-Power Resources, Inc.
Wyoming Department of Environmental Quality - March 10, 2008
SUMMARY: WYOMING DEPARTMENT OF ENVIRONMENTAL QUALITY NOTICE OF VIOLATION TO POWER RESOURCES, INC.
Prepared by Lilias Jarding, Ph.D., Political Science/Environmental Policy (pdf)

DEC accuses uranium mine of violations - Associated Press
Billings Gazette - April 5, 2008
Probe finds uranium mine violations - Dustin Bleizeffer
Casper Star-Tribune - April 4, 2008
Satellite photo of ISL well field shows hundred of wells - Smith Ranch in Wyoming is typical uranium in-situ leaching operation - Posted September 12, 2007
Cameco Company Links - WISE Uranium Project