Wellington Board of Trustees to consider uranium mining resolutions
One resolution expresses opposition to Centennial Project, the other support for HB-1161
Posted April 5, 2008, Updated April 7, 2008
A year after learning of Powertech Uranium Corp.'s proposal to mine uranium, the Town of Wellington's Board of Trustees will consider adopting two resolutions on the matter at the board's April 8 meeting. The meeting begins at 7:30 PM at the Leeper Center, 3800 Wilson Avenue. The Leeper Center is in the same building as the Wellington Library.
If the project is approved by federal, state, and county agencies, in situ and possibly open pit uranium mining would take place six miles east of the Wellington town limits and only 4.5 miles east of the town's proposed Growth Management Area. The mining area is in neighboring Weld County, and the town's only option for influencing the outcome of the permit process is to adopt a nonbinding resolution on the matter. The City of Fort Collins and the Town of Timnath have already passed strongly-worded resolutions urging regulatory agencies to deny any and all permits for the project.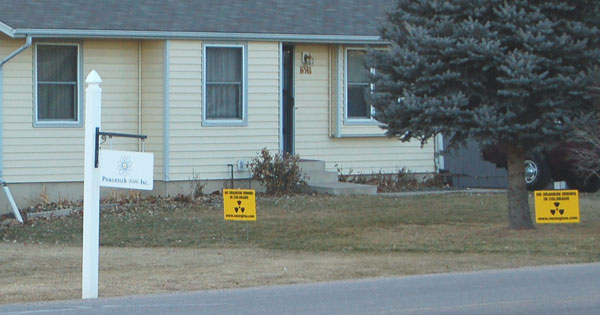 The governing bodies of Fort Collins and Timnath seem to understand the potential damage that nearby uranium mining could do the economic vitality of the region. And they acknowledge the inherent environmental and public health risks associated with such mining.
Recent reports of an investigation by the Wyoming Department of Environmental Quality into the state's only operational uranium mining facility have bolstered the concerns of northern Colorado public officials and residents. In March, Wyoming regulators issued a Notice of Violation to Power Resources Inc., which operates the Smith-Highland Ranch in-situ leach uranium mine north of Douglas. Wyoming officials describe an alarming volume of environmental violations including spills, leaks, excursions, and delayed aquifer restoration. According to state documents, the violations are routine and have been going on for years. Power Resources Inc. is a wholly-owned subsidiary of Canadian company Cameco Corporation.
At its March 25 meeting, the Wellington Board of Trustees discussed the uranium mining proposal and whether the board should consider a resolution opposing the project. Four board members, Travis Stevens, Travis Vieira, Mishie Daknis, and David Noe expressed concern about the project. Mike Steely and Karen Ziegler didn't seem to have an opinion. Mayor Larry Noel simply commented on his strong support for property rights, implying that Powertech's ownership of uranium mining rights trumps the property rights of landowners in and near the mining area. Since that meeting, voters elected Jack Brinkhoff to replace outgoing trustee Karen Ziegler.
Several area residents addressed the board urging them to take a stand against the mining project in the interest of the town's long-term economic and environmental health. Nearly all the speakers live near the mining area. In my opinion, the trustees have a rare opportunity on Tuesday evening to take a stand for the town, its residents and businesses, and all those who live in the surrounding area who consider themselves members of the Wellington community.
Please contact the trustees and ask them to pass a resolution against Powertech's uranium mining project. Unfortunately, the town has provided no mechanism for directly contacting the trustees, so email messages must be sent to Cynthia Sullivan, the Deputy Town Clerk at sullivcj@co.larimer.co.us. Ms. Sullivan's phone number is (970) 568-3381. Her fax number is (970) 568-9354.
JW
Agenda and Board Packet - April 8, 2008 Regular Meeting of the Wellington Board of Trustees
Timnath Town Council calls on EPA, State of Colorado, and Weld County to "deny any and all permits" to Powertech Uranium Corp. - Fast-growing town just south of the Centennial project believes mining would do irreparable harm to its economy and environment - Posted March 4, 2008
U.S. Congresswoman Musgrave urges Larimer County commissioners to oppose Powertech's mine plans - Musgrave seeks to protect ground water for area residents; letter follows similar message to Weld County commissioners last month - Posted February 28, 2008
MUSGRAVE REITERATES HER STRONG OPPOSITION TO CENTENNIAL PROJECT - Letter encourages Weld County commissioners to listen to residents and carefully evaluate potential economic and environmental costs - Posted January 31, 2008
DENY ALL PERMITS - Fort Collins City Council sends unanimous message to EPA, State of Colorado, and Weld County - Citizens, city staff, council members act to protect future of city - Posted December 7, 2007
Doctors' advice: No uranium mining in populated area - Colorado Medical Society board unanimously joins Larimer County Medical Society in opposition to Powertech's proposal - Posted November 20, 2007, Updated November 22, 2007
MUSGRAVE ANNOUNCES OPPOSITION - October 13, 2007 - Congresswoman states intention to help stop proposed project to crowd of 300+ angry landowners and stunned Powertech managers at end of Nunn community meeting; cites population density, groundwater contamination risk, effect on agriculture, and declining property values - October 15, 2007, Updated December 1, 2007
Probe finds uranium mine violations - Dustin Bleizeffer
Casper Star-Tribune - April 4, 2008
Report of Investigation
Operator: Power Resources, Inc., Facility: Smith Ranch - Highland Uranium Project, Mine Permit #603 (Highland) and #633 (Smith Ranch), Prepared By Mark Moxley, LQD District 2 Supervisor
Wyoming Department of Environmental Quality - November 21, 2007
IN THE MATTER OF THE NOTICE OF VIOLATION ISSUED TO POWER RESOURCES, INC., P.O. BOX 1219, GLENROCK, WY 82637
Re: Insitu Uranium Operation, Permit #603, Re: Insitu Uranium Operation, Permit #633, DOCKET NO. 4231-08
Wyoming Department of Environmental Quality - March 7, 2008
Letter from John Corra, DEQ Director and Donald McKenzie, Administrator-Land Quality Division to John McCarthy, Manager-Health, Safety and Environmental Affairs-Power Resources, Inc.
Wyoming Department of Environmental Quality - March 10, 2008
SUMMARY: WYOMING DEPARTMENT OF ENVIRONMENTAL QUALITY NOTICE OF VIOLATION TO POWER RESOURCES, INC.
Prepared by Lilias Jarding, Ph.D., Political Science/Environmental Policy (pdf)

Satellite photo of ISL well field shows hundred of wells - Smith Ranch in Wyoming is typical uranium in-situ leaching operation - Posted September 12, 2007
Technologically Enhanced Naturally Occurring Radioactive Materials From Uranium Mining - Appendix III. Occupational and Public Risks Associated with In-Situ Leaching
U.S. Environmental Protection Agency - August 2007 (pdf)
Consideration of Geochemical Issues in Groundwater Restoration at Uranium In-Situ Leach Mining Facilities (NUREG/CR-6870)
U.S. Nuclear Regulatory Commission and U.S. Geological Survey - January 2007 (pdf)
An Environmental Critique of In Situ Leach Mining: The Case Against Uranium Solution Mining - Gavin Mudd - July 1998 (pdf)
As uranium mines closed, state altered cleanup goals - Dan Kelley
Corpus-Christi Caller-Times - November 5, 2006
Domestic wells in vicinity of uranium exploration drilling have "alarming" levels of radiation according to Texas ground water district - Goliad County files lawsuit against Uranium Energy Corp.; Powertech doing similar exploratory drilling in Weld County - Posted March 19, 2008