Fort Collins City Council to consider resolution opposing Powertech's project
Measure states the mines will be "injurious to the health, safety, and/or welfare" of residents and will "do irreparable harm to the economic well-being" of the city
Posted November 30, 2007, Updated December 1, 2007
Following on the heels of a New York Times story contrasting Fort Collins' "green" image with the specter of open pit uranium mining eleven miles from its thriving downtown business area and six miles from the outdoor Fort Collins Soccer Club Complex, the Fort Collins City Council will consider a resolution opposing the project at its December 4 meeting.
City staff has been studying the proposed Centennial/Indian Springs project for several weeks in response to requests by council members to look at the issue. Staff members have drafted a thoughtful and strongly-worded resolution of opposition to the project. The resolution points out the proposed mining zone is in an area near Fort Collins which is experiencing rapid population growth. It says the site is unsuitable for uranium mining because health risks to nearby residents cannot be determined with any degree of certainty. And the resolution recognizes the fact that a large uranium mining operation so close to Fort Collins will have a "detrimental effect on the image and economic well-being of the City".
The resolution finishes by urging all federal, state, and county agencies involved with the permitting process to deny any and all permit applications submitted by Powertech.
The resolution focuses on in-situ leach (ISL) mining. What Fort Collins city staff and council members may not be fully aware of is the potential for radioactive windblown dust to be dispersed over the city from multiple open pit uranium mines. The majority of the project's identified uranium ore is in the southern half of the proposed mining area which is the area closest to Fort Collins. These ore deposits sit above the water table and cannot be mined by typical ISL methods. In spring 2007, Powertech went on record stating these deposits would be extracted by open pit mining. Since then the company has back-pedaled on this issue, floating the questionable idea that the area can be flooded to create a man-made aquifer that is amenable to a "modified" ISL method. Company officials admit this idea has never been attempted.
Powertech refuses to rule out open pit mining on the four non-contiguous sections that make up this southern area. Dust containing uranium and radium-226 would be lofted from these open mines, blown for tens of miles in all directions, and dispersed over cities, towns, parks, open space, farms, and ranches. On average, the area northeast of Fort Collins experiences wind speeds of 50 miles per hour at least twice a month, with peak wind speeds exceeding 75 miles per hour. Approximately 5-10% of the time the wind blows, it comes from the northeast which would carry contaminants from the mines directly over the city of Fort Collins.
An affirmative vote by council members on Tuesday night will add their voices to the thousands of northern Colorado citizens who have already spoken out against this ill-conceived plan. They will be joining many others, including U.S. Congresswoman Marilyn Musgrave, the Colorado Medical Society, the Larimer County Medical Society, state representatives Randy Fischer and John Kefalas, who have gone on record in opposition to the project. In addition, U.S. Senator Ken Salazar and State Senator Steve Johnson have expressed strong concerns about whether current regulations adequately address risks to underground drinking water.
The December 4 City Council meeting starts at 6:00 PM. It is unlikely the resolution will be discussed before 8:00 PM, as it is the fourth discussion item on the agenda. Please refer to the meeting agenda below. The meeting will be held in the council chambers at 300 Laporte Avenue in Fort Collins. To contact councilmembers prior to the meeting:
Council Member
Home Address
Phone
Email
Doug Hutchinson, Mayor

1315 Whedbee Street

,

Fort Collins, CO 80524

(970)

416-2154

dhutchinson@fcgov.com
Ben Manvel, District 1
323 East Plum Street,

Fort Collins, CO 80524

(970) 217-1932
bmanvel@fcgov.com
Lisa Poppaw, District 2
2945 Stonehaven Drive, Fort Collins, CO 80525
(970) 223-4136
lpoppaw@fcgov.com
Diggs Brown, District 3
903 Rule Drive #14,

Fort Collins, CO 80526

(970) 420-9097
dbrown@fcgov.com
Wade Troxell, District 4
812 Rochelle Circle,

Fort Collins, CO 80526

(970) 219-8940
wtroxell@fcgov.com
Kelly Ohlson, District 5
2040 Bennington Circle, Fort Collins, CO 80526
(970) 493-7225
kohlson@fcgov.com
David Roy, District 6
2016 Evergreen Court, Fort Collins, CO 80521
(970) 217-5506
droy@fcgov.com
Regular Meeting Agenda - Fort Collins City Council - December 4, 2007
Agenda Item Summary - Fort Collins City Council
Resolution 2007-108 Expressing Council's Opposition to the Mining of Uranium in the Vicinity of Nunn, Colorado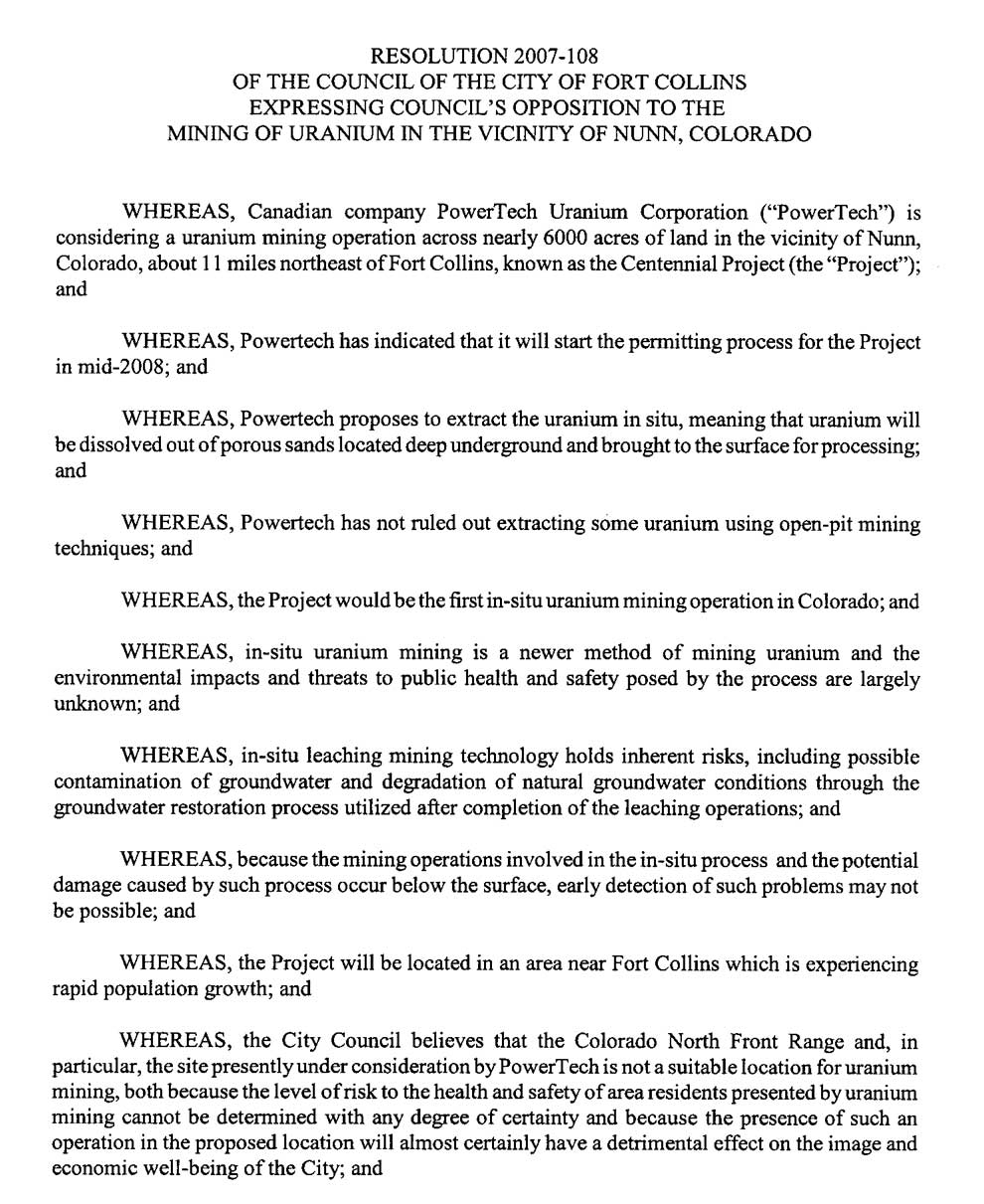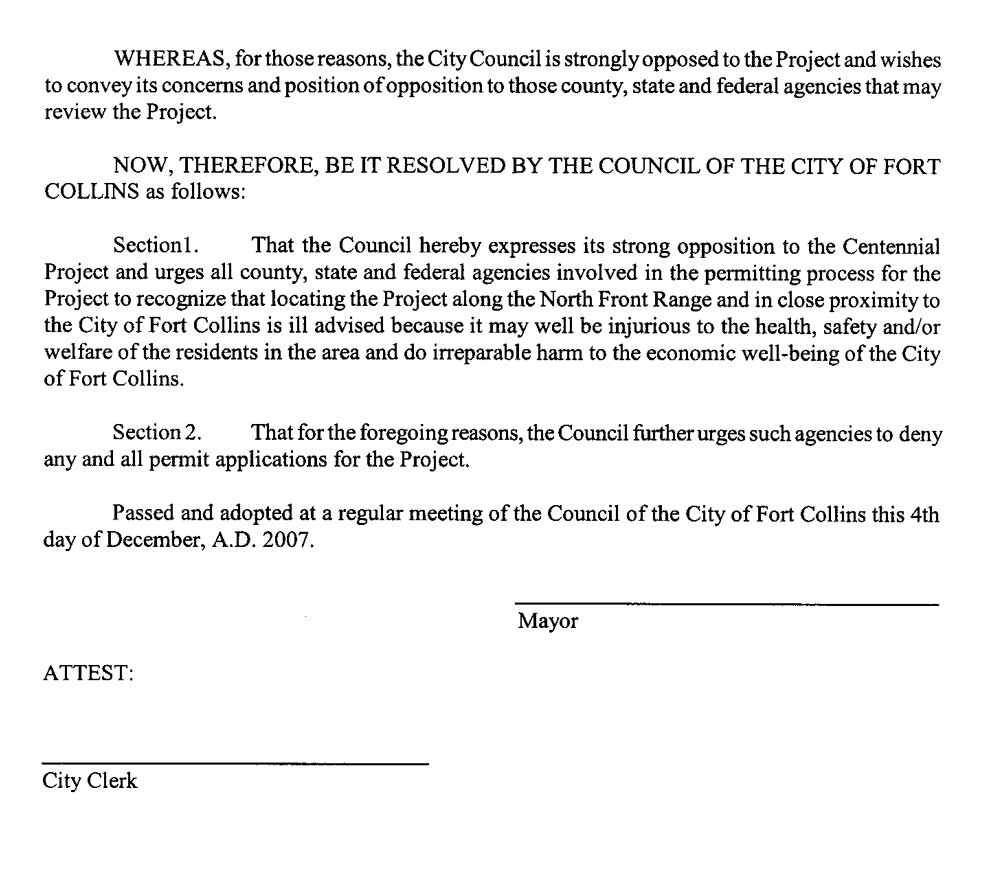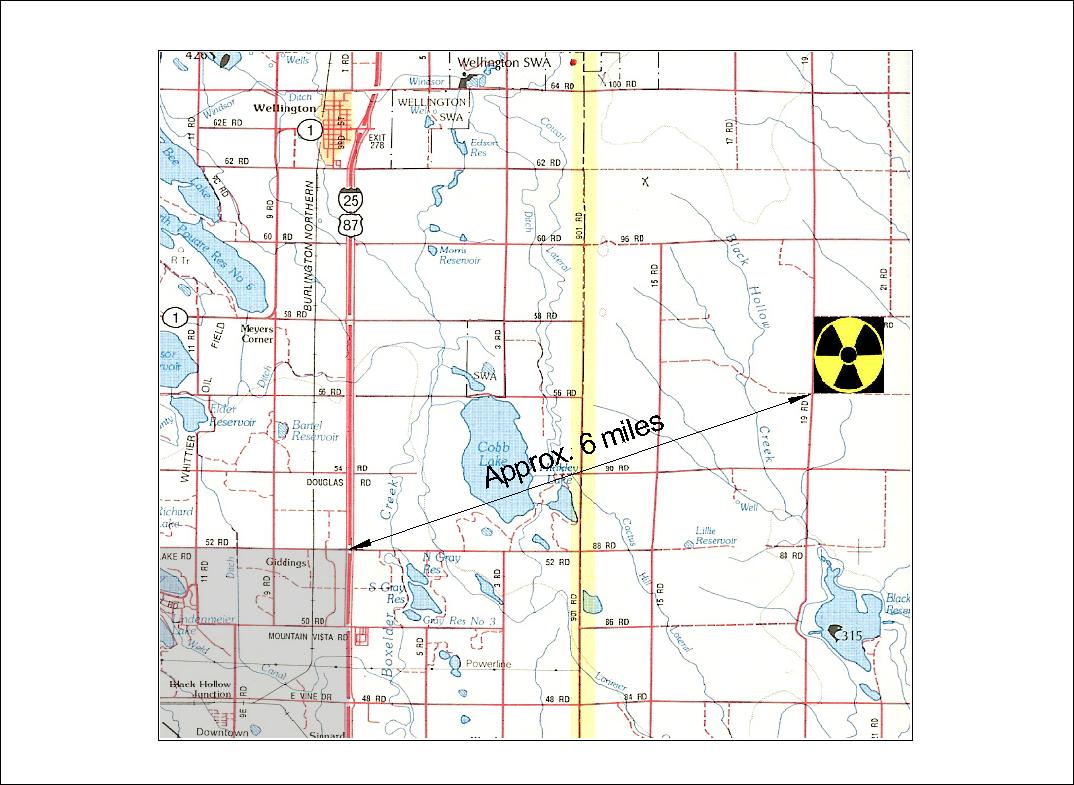 One of Powertech's proposed open pit uranium mine sites is 6 miles northeast of Fort Collins' city limits, 6 miles due east of the Fort Collins Soccer Club Complex, 4 miles northeast of Cobb Lake, 5 miles due east of the Colorado State University Agricultural Research, Development and Education Center, 6 miles northeast of the Anheuser Busch Brewery, 2 miles north of Black Hollow Reservoir, 8 miles northeast of the Fort Collins Country Club and Long Pond, and 9 miles northeast of Lindenmeier Lake.