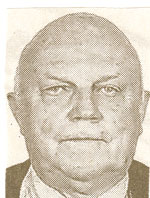 Wallace "I'm not doing this for the money" Mays, Chairman of the Board, Chief Operating Officer, and largest individual shareholder - Powertech Uranium Corp.
Mining project needs more objective review
John S. Dixon
Fort Collins Coloradoan
October 4, 2009
This is in response to Wallace M. Mays' Soapbox article on Thursday regarding proposed uranium mining in nearby Weld County by Powertech (USA) Inc. Mays is chairman of the board at Powertech.
Before Powertech begins mining and rolls the dice with our health and safety, our home values and our local economy, we must have a more objective appraisal of the proposed mining project. We need the appraisals of scientists who have doctorate degrees in the appropriate disciplines and who are independent of Powertech.
Mays writes about the unintended movement of production fluids outside the mining zone and says "... excursions do happen ..." In other words, the methods Powertech intends to use to mine uranium cannot be relied upon to restrict the water used in the mining process to the mine site and cannot ensure that tainted extraction fluids will not contaminate nearby water supplies.
Mays refers to a recent report published by the U.S. Nuclear Regulatory Commission. We need to read this report. We also need to read a recent U.S. Geological Survey report (Open-File Report 2009-1143), which concludes that no in situ leach mine in the United States has ever been able to return post-mining groundwater to its original, baseline condition.
On July 8, at a town of Nunn public meeting, Mays said "... I don't do it (uranium mining) for the money ..." Considering Mays is a major stockholder in Powertech, this comment adds greatly to his credibility.
RELATED DOCUMENTS:
DATA ON GROUNDWATER IMPACTS AT THE EXISTING ISR FACILITIES - (no author listed) - U.S. Nuclear Regulatory Commission - (undated) Note: This document was prepared by an unidentified NRC staff member(s) upon the request of the Commission. It is undated, authorship is unknown, and no sources are cited. It does mention that in the three mines reviewed (Irigary/Christensen Ranch in Wyoming, Smith Ranch/Highland in Wyoming, and Crow Butte in Nebraska), restoration efforts could only return 50-70 percent of constituents to baseline values. In particular, restoration of uranium, radium-226, arsenic, and selenium to baseline is often not attainable. The report also confirms that excursions of leaching fluids out of the mining zone have persisted for several years, and that leakage of well casings and fittings is not uncommon. The report concludes that "Potential environmental impacts to groundwater at an ISR facility can result from inadequate restoration of the production aquifer following completion of the ISR operations, leakage from a failure of the subsurface well materials, or an excursion of the leaching fluids to the aquifers surrounding the production or exempted aquifer." The report goes on to say that excursions and well failures "in most cases" do not pose a threat to the surrounding aquifers. (Apparently, in some cases they do.) Despite the numerous risks from ISL mining delineated in the report, the unnamed author repeatedly asserts that the NRC's regulation of these three mines has been successful at protecting "human health and the environment". This claim is made eleven times in the nine-page report, but there is no explanation of how these determinations were made, who made them, or the scientific criteria used to assess the various risks.
Report on Findings Related to the Restoration of In-Situ Uranium Mines in South Texas - Bruce K. Darling, Ph.D., P.G. - SOUTHWEST GROUNDWATER CONSULTING, LLC - September 29, 2008 (PDF 982 KB)
Report by hydrogeologist finds Texas in-situ uranium mines have been unable to restore ground water aquifers to premining water quality - State regulators routinely approve leaving higher uranium levels in ground water; author questions mine operators' scientific understanding of aquifers - Posted October 24, 2008, Updated March 30, 2009
After in-situ uranium leaching, ground water cannot be returned to the way it was - Nuclear Regulatory Commission official and uranium mining executive acknowledge restoration of aquifer to baseline is unachievable - Posted September 3, 2008
See story on Wallace Mays' deal to sell uranium to the government of India
---