LANE DOUGLAS CALLS IT QUITS
Project Manager lasts only 24 weeks; lashes out at opponents, calling them liars in letter to local newspapers
Posted November 7, 2007, Updated November 11, 2007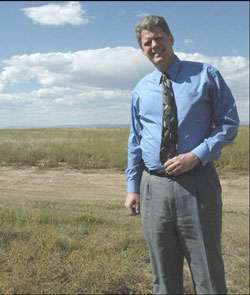 Photo: Fort Collins Now
Weld County residents recently learned that Lane Douglas, Powertech's project manager for the Centennial/Indian Springs uranium mining proposal, is no longer with the company. Although no formal announcement has been made, Douglas' name and bio have been unceremoniously removed from the company's website. Powertech issued an effusive news release on May 22 of this year publicizing the appointment of Douglas to the position, touting his real estate broker's license and his 23 years experience as a land manager and project manager for unnamed "large projects" in the communications and oil and gas industries. Before the promotion to project manager, Douglas was a landman for the company.
Douglas' brief tenure as project manager has been difficult. Some landowners in the mining area have refused to sell out to Powertech or lease their land for monitoring wells. Opposition to the project has grown considerably. Congresswoman Marilyn Musgrave announced her opposition during a packed community meeting in Nunn, Colorado. The board of the Larimer County Medical Society passed a resolution opposing uranium mining. Concerned about health and environmental risks, the City of Fort Collins and Larimer County initiated reviews of Powertech's proposal. Douglas has been repeatedly confronted by angry landowners at a Powertech-sponsored "open house" and public meetings held by opponents.
Douglas has been working as landman, spokesman, and project manager for the Centennial/Indian Springs project. Apparently, disagreements developed with his bosses over how to proceed. Douglas gave his two weeks notice and his last day on the job was Wednesday, November 7. He may be hired back as a consultant to do real estate deals.
On October 17, 2007, the Fort Collins Coloradoan newspaper published a guest editorial by Mr. Douglas. In what turned out to be a parting shot, Douglas labeled opponents liars and accused them of ignoring the facts. He went on to recite a litany of unsubstantiated claims regarding in-situ leach mining. He finished the editorial by proclaiming "Powertech is here to stay".
Don't count on it, Lane.
JW
Lane Douglas, "Uranium method safe", Fort Collins Coloradoan, October 17, 2007 (with comments)
Cory Carroll, M.D., "County Medical Society opposes uranium mining", Fort Collins Coloradoan, November 7, 2007 (with comments)

B. Park, "Uranium's public face says bye-bye", Rocky Mountain Holla, November 9, 2007