Uranium mine site less than one mile from potential drinking water reservoir for 200,000 northern Colorado residents
Cactus Hill Reservoir is alternative if proposed Glade Reservoir not approved
Posted December 22, 2007, Updated March 30, 2009
Powertech Uranium Corp. proposes to mine uranium at a site located less than one mile from a proposed reservoir designed to provide drinking water to at least thirteen northern Colorado cities, towns, and water districts serving nearly 200,000 people. The Cactus Hill Reservoir is Alternative #2 of the Northern Integrated Supply Project (NISP). The NISP is a project of the Northern Colorado Water Conservancy District that proposes to store over 200,000 acre-feet of water for use by the thirteen participating entities.
The project's participants include the Fort Collins-Loveland Water District, the Central Weld County Water District, the Left Hand Water District (Boulder County), the Morgan County Quality Water District, the cities of Evans, Fort Lupton, Fort Morgan, and Lafayette, and the towns of Berthoud, Windsor, Eaton, Erie, and Severance.
The preferred alternative includes the 170,000 acre-feet Glade Reservoir along with the smaller Galeton Reservoir. Glade would be built northwest of Fort Collins and has met with opposition from various parties. If Glade is not approved by the U.S. Army Corps of Engineers, which is the lead federal agency reviewing the permit application, the conservancy district may then pursue the Cactus Hill Reservoir.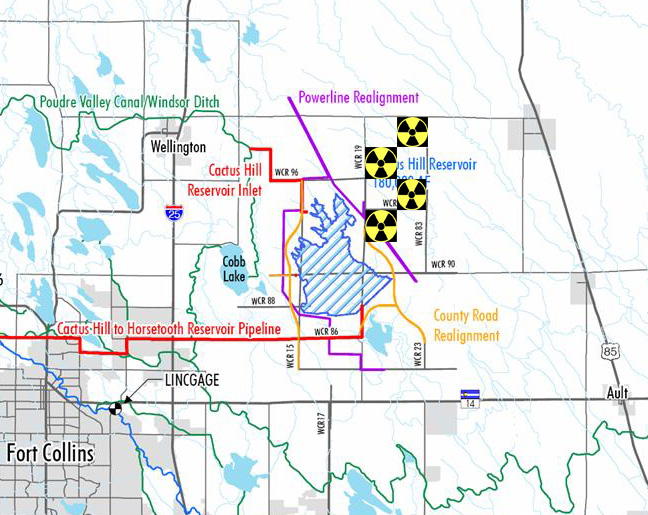 The map shows the proximity of Cactus Hill to the four sections of land slated for uranium mining. These four sections comprise the southern half of Powertech's Centennial/Indian Springs project. The ore bodies in these four sections are about 100 feet below the surface and are above the water table. Since the uranium ore is "unsaturated", typical in-situ leach mining is not possible.
In fact, Powertech's plans were to extract this ore using conventional open pit mining until local landowners raised the issue of environmental and health risks arising from windblown dust containing uranium, radium, and heavy metals. Powertech officials have since back-pedaled on the question of open pit mining and have suggested the area could be flooded to create the hydrogeological conditions necessary for some type of "modified" in-situ leaching. In the same breath they admit this has never been done and they don't know if it is possible.
In a more frank moment, a company official told a news reporter they would not rule out open pit mining since it may result in a better financial return to company shareholders. In any event, Powertech is proposing to mine uranium less than one mile from the site of a potential reservoir that would provide drinking water to 200,000 northern Colorado residents.
JW
Audio report on potential "interaction" between Powertech's Centennial uranium mining project and the Northern Integrated Supply Project's Cactus Hill Reservoir - Bob Beck, KRFC 88.9, Fort Collins, CO - March 11, 2009 (MP3 6,445 KB)
NISP Environmental Impact Analysis
NISP Project Documents & Materials
NISP Cactus Hill and SPWCP Alternative Map
Water Supplies and Demands for Participants in the Northern Integrated Supply Project